Kate Chadbourne featured at Story Space 9/4
This past week at Story Space was special. During the Open Mic we had a new teller who told about her encounter with a moose. We had two tellers give their own perspectives of a recent family wedding they'd both attended as well as a brief armchair travelogue of a teller's recent trip to Europe.
The feature, Marty Levin, shared special moments from his years as a clown and mime. He had the audience enthralled as he told of being a clown at a Red Sox game, being a new clown at a circus when he hadn't had time to rehearse with the other clowns and being tossed about by another clown and literally landing on his feat. Also, his Elvis impression left the women in the audience panting for more. You never know what will happen at Story Space, so you'd best not miss it.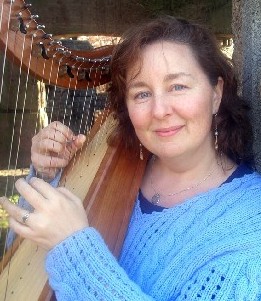 Kate Chadbourne
This coming week, our feature will be Kate Chadbourne, a teller, singer and celtic harpist. She will weave these skills together to enchant us all. The evening will begin with an Open Mic a 7, where
tellers have eight minutes to try new material or hone an old favorite. First-time tellers are guaranteed a spot and listeners are always welcome. Kate will begin her feature at 8:15.
106 Prospect Street, Cambridge
The venue is nearby to Central Square. The gallery has warmth, charm and invites the creative muse. There is a suggested donation of $5 to keep the tradition of Tuesday storytelling in Cambridge going as it has for over 20 years.
Place: Out of the Blue Gallery
106 Prospect Street
Cambridge, MA
Date: Tuesday. September 4, 2012
Time: 7:00 to 9:30 p,m.
Check out our website at
www.storyspace.org